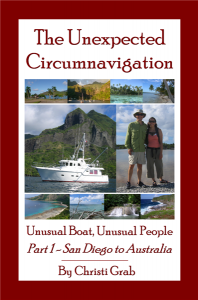 A couple months ago, we mentioned that World Footprints Media was running a Best Photo Contest called "I LOVE To Travel." One of the prizes was a copy of both our books. In our last update, we forgot to mention that the winner of our books was Sarah S. of Pennsylvania. Congrats to Sarah!
We have gotten more feedback on The Unexpected Circumnavigation: Unusual Boat, Unusual People Part 2: Australia to Oman. So far, all the feedback has been good, with more than half of the people telling us they like Part 2 better than Part 1. We would be grateful if people who have read the books would rate them on Lulu or Amazon.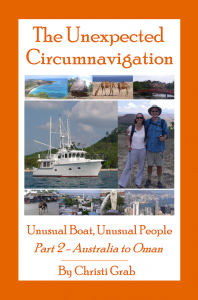 We're still trying to finish up the Recipe for Success: What My Cruising Will Cost Me workbook. As we said in the last update, the workbook's content is mostly complete; the hold up is formatting challenges. With so much going on with getting ready for the baby, it has been easy to procrastinate on the re-formatting, but we are still slowly plugging away at it.
In personal news, Christi is now 36 weeks pregnant. One month left and counting! Christi's pregnancy is still mild compared to most women and as far as the doctors can tell, the baby seems to be healthy. Christi still feels about the same as last reported: increasingly uncomfortable and tired, with a serious case of "baby brain." The fact that she thinks and moves so slowly frustrates her to no end. Things she used to take for granted like bending over and sitting up in bed are now really hard for her.
At 34 weeks, Christi finally accepted that she is physically incapable of washing Kosmos anymore — it simply requires too much bending and exertion of energy — and hired a boat washer. However, we are still taking the boat out regularly, and Christi is still manning the lines. Here is a picture of Christi at 35 weeks, about to tie Kosmos up.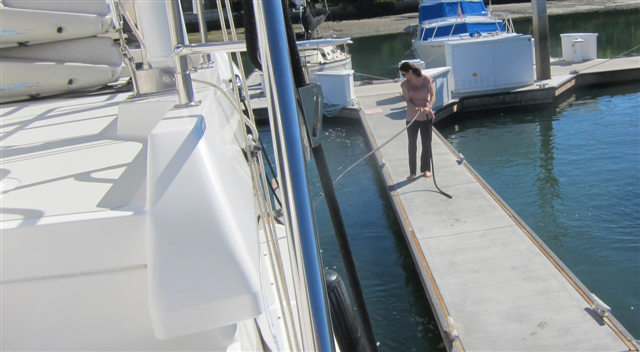 Since you can't tell how big her belly is in the picture above, here is a shot of her taken later the same day. The photo is a bit blurry, but you can't miss the bump. Much to her disbelief, she is even bigger now than she was last week when the photo was taken!