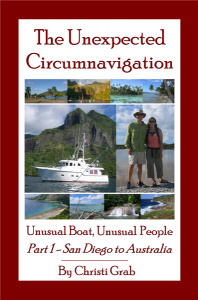 We have just lowered the price of the epub books from $7.95 to $6.95! Woo hoo!
Part 1 of The Unexpected Circumnavigation is available in e-pub at Lulu, iTunes, and Barnes and Noble.com. It is also available in paper format from Lulu and Amazon. Currently, Part 2 is available in both paper and e-book formats at Lulu. Part 2 should be available at the other retailers within 10 weeks. We'll let you know when the other sites have the books listed.
If you've read either book and liked it, please write a review on any of the retail sites above, or on GoodReads.com. We'd appreciate it!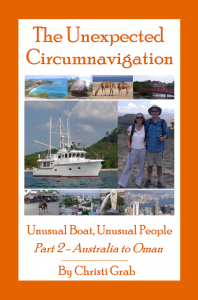 Our upcoming workbook, Recipe for Success: What Cruising Aboard My Own Boat Will Cost Me was about 95% done when Keith was born. We haven't worked on it since, but we plan to finish it as soon as Keith is a little less needy.
Christi will start working on The Unexpected Circumnavigation Part 3: Oman to Gibraltar as soon as Recipe for Success is done. We estimate it will take her about 10 months to write it once she gets started.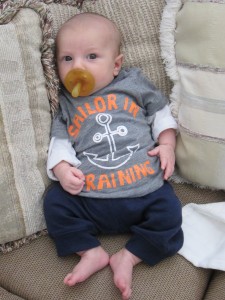 In personal news, Keith is now 8 weeks old. Right around Keith's one month birthday, he turned into a colicky screamer. After about 2.5 difficult weeks, we figured out he has acid reflux. Christi changed her diet and we bought some herbal remedies. Keith is now doing better overall, but he still has bouts of pain. When he is feeling good, he is absolutely adorable. He loves to smile.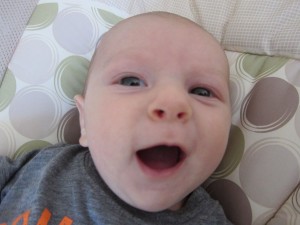 Keith has recently started to coo. He is currently learning how to use his hands. It is fun to watch him figure out things that we take for granted.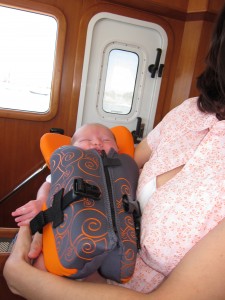 We've taken him out on three boat rides now. He seems to be indifferent to the boat so far. We got him the smallest life jacket that West Marine carries, but as you can see, it is huge!
Someone asked if we had Baby on Board burgee. We don't, but we do have a Baby on Board sign. Keith wasn't happy when we snapped this photo.