We polished fuel all night last night. We are pleased to report that it looks really clean. The men changed Racor fuel filter this morning. Then they tested the wing engine to make sure it is working properly. All looks good with it.
Colin's son, Neil, was flying in this afternoon to spend some with his dad and see us off tomorrow. After the chores were done, we still had time to kill before Neil's arrival. We walked a few blocks north to the commercial district and meandered around, killing time. Here is the yacht club, which we passed on the way to the center. This wins the most unique yacht club building façade award.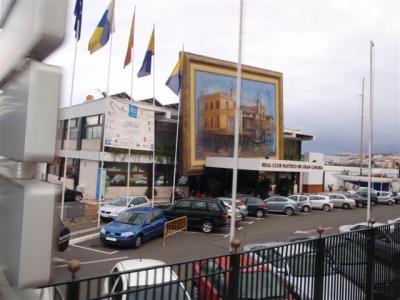 We wandered into a department store called El Corte Ingles that has a grocery store, curious to see how it stacks up against our new favorite grocery store, Mark's & Spencer's. In most ways, El Corte Ingles is your typical nice grocery store, comparable to Carrefour that we have mentioned in previous postings. But it does have a lot of high end specialty products, including a gift basket section. Almost every single gift basket had an Iberian Ham in it. Wow, it must be popular. We made our way through the store and found an entire Iberian Ham department. Lucky us, they were on sale, down from $145 USD each to only $119 USD each, with the purchase of a particular brand of wine, olive oil or sausage. And, they even have the special holders in stock. If you look carefully at the photo, you can see the little hooves on each of the legs.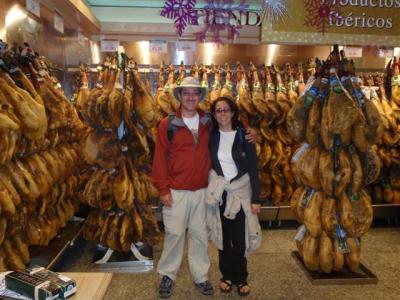 Colin had a look around the rest of the store and reports they stock the most diverse selection of goods he has ever seen before. In addition to the usual clothing, shoes, cosmetics and house wares departments all department stores, they also have a marine section with full SCUBA gear and life rafts, a camping section with the usual tents and sleeping bags, a car accessory section with oils, radio, helmets, and a full range of Honda motorcycles and scooters. Then we went to Mark's & Spencer's and were devastated to find this one only stocks clothes. We'll do our passage stock up at El Corte Ingles, we suppose.
Neil met us in front of El Corte Ingles shortly after and we hopped on a red sightseeing bus like the one we had taken in Mallorca. Conveniently, it picked up right in front of the department store. Las Palmas is a larger city than we realized, quite sprawling. Like Mallorca, there are new and modern buildings alongside historic 18th century era buildings. And when we say modern buildings, we mean most of them are quite literally in the modernist style. There are a lot of interesting, cool looking newer buildings all over Las Palmas. Overall, from what we saw, it looks to be relatively clean and nice, no different from any other small city. From Lonely Planet's description as a drug addled town filled with shady characters, we were expecting it to be more run down. Here is a traffic circle in the city center.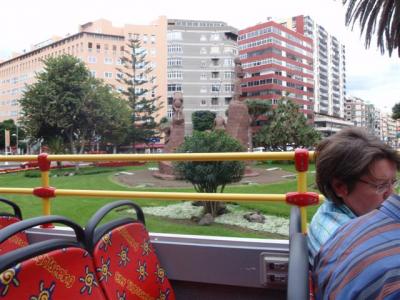 The first stop on our tour was up to a view point with panoramic views of the waterfront. We could see Kosmos down below us. The hill is a residential area with mostly cute cottage style homes. Most look like they are small multi-family dwellings with maybe 2 4 units.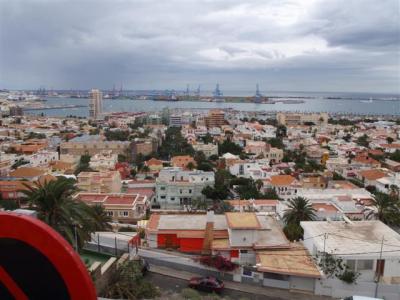 On the way back down the hill we went by Doramas Park, a nicely landscaped area with an art gallery and a historic hotel. The hotel is the fanciest in Las Palmas, with a black tie only casino and real Turkish baths. Apparently, the area surrounding the park is the high rent district. The east side of the park borders the south marina entrance, so clearly we are not in as seedy of an area as we had originally thought. The first photo is the park, the second is a building across the street, and the third is a town square in front of some government administration offices.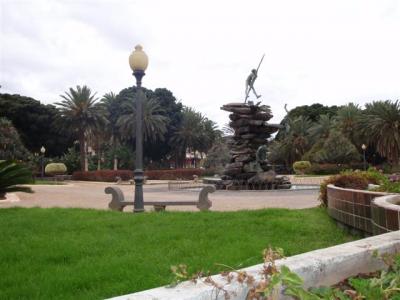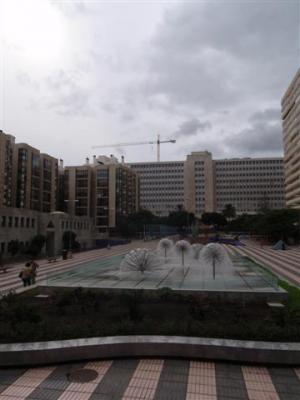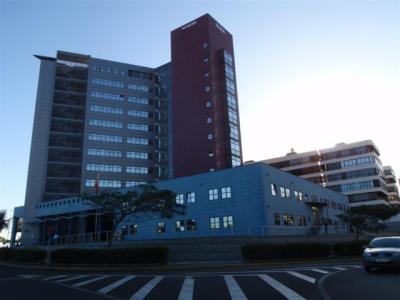 From there the bus took us down to the historic district, where most of the buildings are 18th century era structures, possibly even older. We got off here and wandered around. Like most old cities, the streets are narrow, the buildings are closely set together, there is a huge cathedral, a few fancy, formal looking buildings, and couple nice public squares. The first photo is some houses. The second is called the Gabinete Lierario, a historic building that used to be a theater and is now a private club. The very orange building is a farmer's market.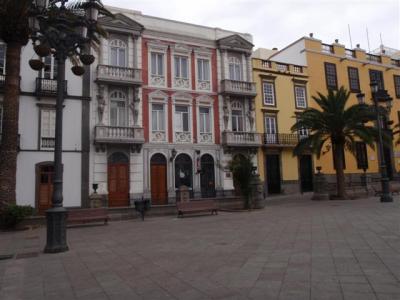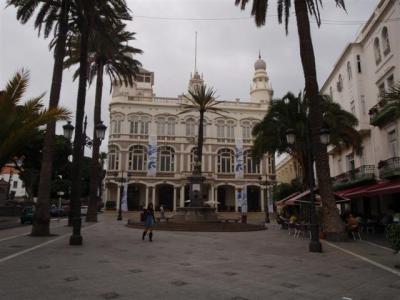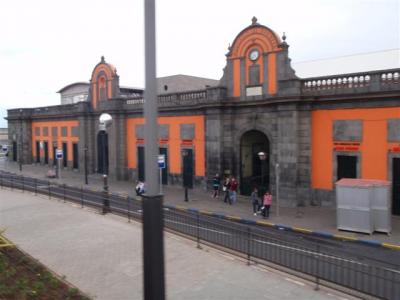 One of the things that has struck us as amusing is the Canary Islands mascot is dogs, and there are depictions of assorted breeds of dogs all over Las Palmas. Here are a Neil and Colin petting some statues in one of the town centers. And these were only 2 of the many dog statues there.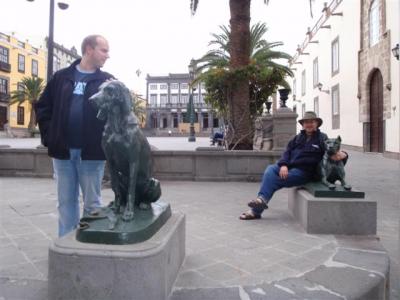 Earlier in the day, the weather had been fairly nice, warmer with less clouds. As the day progressed, it got colder and gloomier, and within a few minutes of getting off the bus, it started to rain. We took shelter in a nearby restaurant and ordered lunch.
After lunch the rain had stopped. We got back on the bus, which took us west towards the west coast on a road in a small valley between two hills. This road was a former river that had been diverted. On the south side is the Las Palmas Police station, which was originally built and used as a prison. On the north side and farther along on the north side, the hills are covered with bright, cheerful, colorful housing. They are obviously low end, small and boxy and Colin says they look distinctly North African in style. They were originally built for the dockworkers and sailors, who came from all over, including a lot of Moors. Before the river was diverted there must have been a dock on the west coast at the mouth of the river.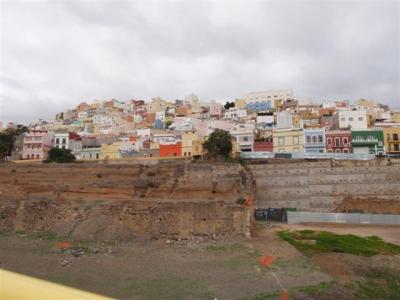 The bus made a U-turn shortly before getting to the west coast and went down to the waterfront, then followed the major highway north along the water past the marina to the Muelle de Santa Catalina. This is the quay the cruise ships dock at and there is a big shopping mall and attractive town square at the base of the quay. This area is actually man made land. The land to the north used to be a separate small island off the coast of Las Palmas, so they filled it in. Las Palmas was naturally a small peninsula, and in filling in the land, turned Las Palmas into large, funny shaped peninsula. Apparently, this area used to be all commercial maritime facilities, such as warehouses, and they have been working on revamping and modernizing it. The second photo is of the museum of science and technology, located in an old warehouse that has been modernized.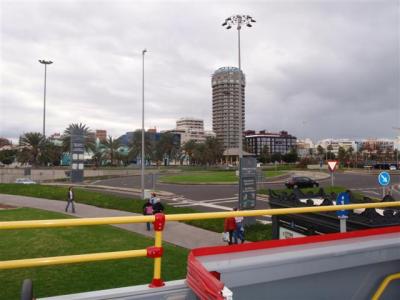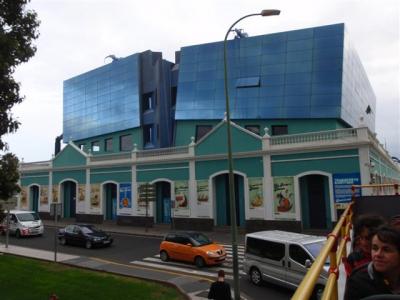 We passed by a nice beach on the west side of the narrow peninsula, and a nice park kind of in the middle of the east and west sides as we headed back towards the city center and exited the bus back at El Corte Ingles. We hadn't stopped at any more of the stops for a few reasons. First of all, we still had things to do today and we couldn't sightsee too late into the day. Second, the cold and rain made walking around outside less enticing. And third, none of the attractions sounded like things that we would be devastated to miss out on. Yes, some sounded interesting, and if we had more sightseeing time we would have liked to have gone to them, but only if we had more time.
We went to the grocery store and did an immense stock up. Our shopping trolley was literally overflowing with all the food. Colin had already been braced for what we like to eat at sea, but Neil seemed to be genuinely shocked by the copious amounts of chocolate, cookies, ice cream and other sweets. And there was not a single veggie in the bunch, unless you count the frozen vegetarian mini pizzas. Mom and dad, please disregard this paragraph.
We took a taxi back to the boat, then Neil and Colin went out for father/son bonding time while Eric and Christi continued on chores and went to bed early.