When we originally scheduled this trip, Friday and Saturday were Eric's day off to sightsee. Sadly, at a relatively late date, his company decided to send him to Luxembourg for a meeting. He was up at 0430 and out the door at 0515 for the airport.
Christi got up with him and took him to the airport. She worked on blogs for a couple hours, took a bath, and otherwise puttered around until 0930. Sure that traffic must have cleared by then, she took the car to the town of Grasse, a mountain village north of Cannes that is the perfume capital of the world. Christi took the highway to the Cannes exit, but instead of heading south towards the beach, went north into the mountains.
Since she had gotten up so early, she was starving at this point. Right off the exit, she found a boulangerie/patisserie  (bread/dessert bakery). She ordered an individual size goat cheese quiche. She wonders if she got the right one, since it was loaded with bacon but didn't taste much like goat cheese. She also ordered a pain du chocolate (chocolate croissant) and a beignet (donut). She sat in the car and scarfed them down before heading up the mountain.
The road was narrow and somewhat windy. She had read there were flower fields surrounding the town of Grasse, so she was surprised to see that it was completely built up along the road, with no fields to be seen anywhere. The buildings were an odd mix. Some were old, as in Medieval, some fairly new, as in probably the last few years. Commercial and residential properties were mixed, with a mechanic shop next to a private mansion. She noticed signs for three different perfumeries along the way.
The heart of Grasse looked medieval. In the center of town, there was a parking garage. She turned off the main road and headed towards the garage, but she missed the entrance. She found herself on a scary one way road back down the mountain. It had dangerously sharp switchbacks, obviously originally a horse trail, not a car trail. At a couple points the road split, in both cases, she made the wrong turn. The first time, turning around was easy because she came to a roundabout, but the second time, the road dead ended and she had to make 30 point U-turn to get out of the tight little alley.
The road ended near the bottom of the mountain. Sigh. She noticed a sign for one of the perfumeries that said it was close by and decided to go there instead of back up the hill. One, she didn't want to drive that scary road down again and two, she really liked the name of the perfumery, Fragonard, because there is a Rococo-era (early 1700s) painter by the same name whose works she particularly likes.
The facility was new and modern looking, probably built in the 1960s or later. They had old equipment on display in the parking lot.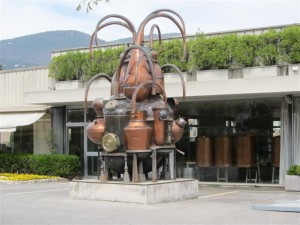 Inside, the woman at the front desk told her it would be a few minutes before the English speaker would be available to give her a tour, and invited her to look around their reception area. It was filled with displays showing the different flowers, leaves, woods, fruits, grasses, and so forth that scents are extracted from. The displays also showed which were grown locally, which were imported, and where they were imported from. A few display cabinets showed assorted bottles and boxes the bottles came in.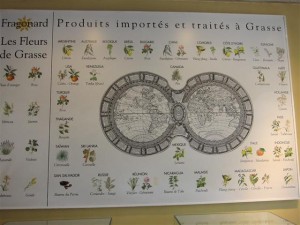 A few minutes later, the guide came out. She explained that the Fragonard Perfumery was founded in a building in the heart of Grasse in 1926, but their operation has grown so much that they have had to open two more factories, one here at the bottom of the hill and one in Eze, near Monaco. The perfumery was named after the artist, who was a native of Grasse that moved to Paris to pursue his art career as a young adult. The perfumery also owns a museum in Grasse that features Jean-Honore Fragonard's work, along with a couple other Grasse native artists, Marguerite Gerard and Jean-Baptiste Mallet.
Perfume making actually originated in Grasse. Leather tanning required a lot of water, and since Grasse had a plentiful water supply, their primary industry was leather tanning, with a specialty in glove making. The process smelled bad, so in the 16th century, the local craftsmen started using local made essences from flowers to scent the leather. Perfume making took off, becoming an industry of its own. The oldest perfumeries in Grasse were also tanneries, as well.
Today, Grasse is the most important perfume making area in the world with over 40 perfumeries. Most of the local factories produce the scents for brand names; the factories themselves are unheard of but their products are world renowned. They also produce food flavorings and scents for commercial products like soaps, shampoos, lotions, cleaning agents and so forth.
Most perfumes are a blend of over 200 scents, and it usually takes about two years of work to formulate a new scent. Perfume makers have a naturally gifted sense of smell. To become a perfume maker, 2 years of specialized schooling and 7 years of apprenticeship are required. Behind a counter there were shelving units after shelving units filled with bottles of essential oils.
Most flowers are distilled in much the same way as alcohol. She can't remember how many kilos of flowers it takes to produce one liter of essential oil, but it was an ungodly number. The flowers are put into a distilling pot, and the pot is filled with water, then boiled dry. The steam is trapped into a cooling vat where the oil and water separate. The staggering number of flowers needed is why perfume is so expensive.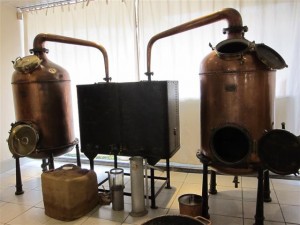 Some flowers are too fragile to boil. In the old days, they "cold pressed" them. They smeared animal fat on a tray and put flowers on the fat. Every day they changed the flowers until the fat had absorbed enough smell to be used as perfume. Then somehow alcohol is used to get the scent from the fat (she was unclear on how). Nowadays they use chemicals to extract the scent.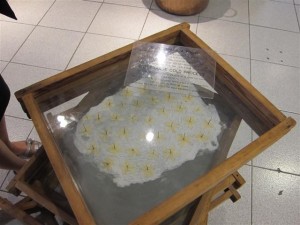 The guide explained which flowers are locally grown and which are imported, then went on to say that sometimes it was cheaper to import flowers than to use the locally grown ones. The perfumes produced in this factory are hand blended and hand packed.
She also was taken to a room where she was shown how soap was molded. They buy soap corns and add scent and color to them. Then they put them in a molding machine, which makes long tubes of soap. The tubes are sliced. The slices are put into another machine that stamps the slice into the perfect shape and embeds a design. The leftover scraps go back into the vat of soap to be molded, so nothing is wasted.
Then it was down to the showroom to smell some of the scents. The guide explained there are four categories of scents: Naturals, which use scents like apple, ginger and lemon; Fruities, which use scents like grapefruit, freesia and hyacinth; Florals, which use scents like lily, honeysuckle and rose; and Orientals, which have rose, musk and sandalwood. She had Christi smell their most popular seller of each category, as well as their top selling perfume of all time, a hybrid Fruity/Floral that smelled like green apple.
Explained the difference between perfume, eau de perfume  and cologne. The essential oil mixtures are the same, it is the amount of essential oil versus alcohol that is different. Perfumes have the most essential oil, so a little goes a long way. Cologne only has a small amount of essential oil, so you need a lot more and it doesn't last all that long.
After tour, she walked over to the Bar and Snack next door for lunch. When she walked in, the waitress asked her if she wanted food or drinks. Christi replied food. The waitress then said "salad or sandwich?" Christi said salad. A few minutes later, out came the salad. It had no lettuce, but lots of hearts of palm, canned tuna chunks, ham, hard boiled eggs, tomato? It really wasn't all that great, but it was large and inexpensive.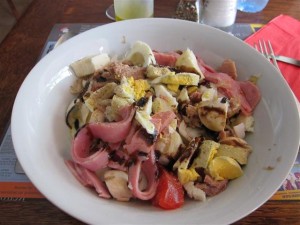 After lunch she decided to head back up to Grasse. She really wanted to see the world's only perfume museum and the Fragonard art museum, and she thought it would be fun to explore the historic old town. She drove up the hill to the town center, ready to turn into the garage. However, before she made the turn, she saw a sign saying "garage full." Still on the main road, she continued on, sure there would be another parking garage or some place to park on the street. There wasn't.
She exited town. She started looking for places to turn around, but turning around was impossible on such a narrow, winding mountain road. She went on for many miles before finally getting to a suitable turn around spot. She knew she was well on her way back to Nice via the mountain road. She decided not to turn back. Parking was going to be a problem and she was feeling tired from being up so early.
The drive back was lovely. For a long, long way out of Grasse, the road was completely built up, looking similar to the road up to Grasse, an odd mix of eras and uses. But eventually, the construction thinned out and it became apparent when she was passing from one town to another. Even deeper into the trip, the towns seemed to go away altogether, replaced by large country estates barely visible from the road. Overall, it was a beautiful and pleasant drive, and she enjoyed the lovely forest.
She made it all the way back to Saint Laurent du Var with no problems, but got lost trying to find the hotel. She drove around town for a good twenty minutes, seeing parts of town she'd never seen before. Some were darling.
For dinner, she went to a place on the boardwalk called Le Bayside, which had an enticing prix-fixe menu. The first course was assiette d'antipasti du pays, which was a green salad topped with some fresh cheese slices, some parma ham slices, and an assortment of grilled vegetables: artichoke, bell pepper (capsicum) eggplant (aka aubergine, which was marinaded in vinegar and yummy) and garlic. It had an olive oil and balsamic vinegar dressing. The main was two fillets of grilled loup fish (a light, flaky white fish), served with a creamy lemon-butter sauce and accompanied with rice and asparagus. For dessert, she had a  lemon meringue pie. All the food was excellent, particularly the salad.