This morning, Eric realized that our primary bilge pump wasn't working. Ooops. The good news is that we would be in to shore very soon, where it would be much easier to fix. Only a small amount of water leaks from the shaft as the boat is running, so it is really not a big deal. And we are not planning to spring any leaks. Even if we did we have another automatic bilge pump and a manual pump.
We could see land at around 1100. Like the Tuomotus, the islands are small and low, barely poking out above the water. The islands appear to be randomly scattered, which is a sharp contrast to the Tuomotus, where the islands are generally are congregated together into a clear ring shape. Though scattered, the islands here are pretty close together, and it doesn't take much imagination to see this cluster of little islands were once one big island.
Our destination was the island of Male (pronounced Mall-ay). As we got closer, we were kind of shocked by how built up Male is. We were expecting it to look like the Tuomotus, with a small village and little houses spread out beyond the village. From what we could see, it looked like most of the buildings were between three and ten stories high, and incredibly densely packed. It looks like any mid-size city center anywhere in the world, except maybe with prettier scenery surrounding it. We knew Male has an area of only 1.7 square kilometers with a population of 130,000, so we should have been expecting it to be built up. Logically speaking, to get that many people in such a small space, it would have to be.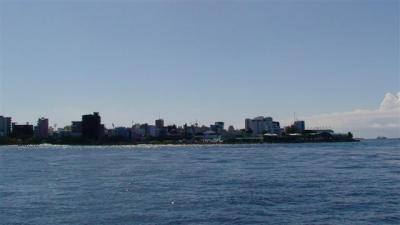 As was recommended from several different sources, we had hired an agent in advance. Without an agent, you can only stay for three days or less and you cannot get fuel. We had told our agent we would be arriving at 1530 (3:30 pm) and he had assured us we would be checked in before the end of the day. We actually pulled into the anchorage on the east side of Male at 1400 (2:00 pm). This anchorage is 130 feet deep, so we didn't bother to anchor. We just kept the engine on and made adjustments as needed to stay in roughly the same spot as we waited for the officials.
There were several small islands visible from where we were. Like the Tuomotus, it looks like most of the islands are made up of white coral and are filled with trees, including lots of coconut palms and evergreens. Most of the islands have hotel looking buildings on them, although one island looks like it is all storage tanks and another island holds the airport. The water in the anchorage is a beautiful and inviting clear deep blue. There are many large cargo shipped anchored in the bay around us, as well as a submarine that seems to live in a specially built slip in the bay.
The officials arrived at 1600 (4:00 pm). The boat pulled up next to us and four people boarded Kosmos, three officials and our agent. We had already given our agent all the pertinent check in information. Our agent had told us everything we would need to provide, such as a written list of all alcohol on board. Check in was fast and easy and in less than 45 minutes we were done. They confiscated our spear gun.
We moved from the check in area to the anchorage for smaller boats, located off the nearby island of Hulhumale. We pulled up right behind Fafner and dropped anchor. The water in this anchorage is a pretty blue green. Hulhumale is a man made island that contains the airport. Just to our south are huge mounds of dirt, so it looks like the island is still being worked on. There is a ferry that runs back and forth from Male every half hour, and conveniently enough, the anchorage is right next to the ferry terminal.
Once we were situated, we called Fafner and all seven of us went to shore for dinner. There is a small pier where you can get on and off the dinghy, and then you tie your dinghy up to the sea wall. The cost for the ferry is less than 50 cents per person per way. The ferries are medium size wooden boats, similar to the one Dive Komodo has, except bigger. There are bench seats in the middle, with an open area in the back for motorcycles. There were actually quite a few motorcycles aboard. There are plastic patio chairs stacked in the corner, so when there aren't many motorcycles aboard, they put the chairs out for additional seating.
The ride over to Male took 20 hair raising minutes. This stretch of water has a lot of boat traffic, with most vehicles moving at high speeds and passing uncomfortably close to the ferry. Despite a few close calls, we arrived safely at the terminal. From what we could see, the terminal is at the edge of a quay. Looking east, there are similar boats lining the sea wall as far as we could see. There is a narrow sidewalk and a two lane road that parallel the sea wall. The opposite side of the street is jam packed with buildings. The ones directly opposite us are low one or two story, but looking down the road, we could see that most of the buildings are tall, some still under construction. There were quite a few people hanging flags up, we presume for the National Day holiday that is coming up on Sunday. If you were to lay these two pictures side by side, you'd get a feel for what Male's wharf looks like.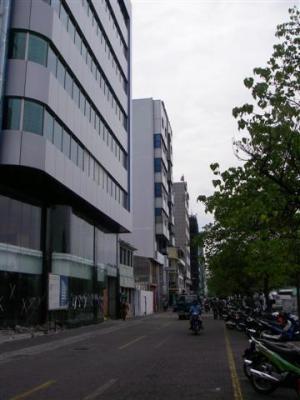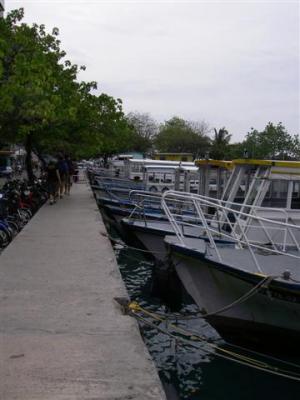 We decided to eat at the restaurant above the terminal, called Sea House. The restaurant is quite chic. It has a coffee house feel, with an area that has couches and coffee tables, and another area with regular tables and chairs. The patrons were mostly young locals, many fashionably dressed. Looks like we found the hip hangout. The menu offered a wide variety of international dishes, but the food was only OK. It was a fun evening with the Fafner crew, getting caught up on one another's adventures since we had last seen each other in Phuket.
After dinner, we decided we were too tired to walk around and took the ferry back to Hulhumale, looking forward to a full night of sleep.