Izmir, formerly called Smyrna, was occupied by humans between 6500BC and 4000 BC. It was settled by Greeks around the 10th century BC. It is believed that the famous author Homer was born in Smyrna. In 95 AD, the apostle St. John wrote a letter addressed to seven fledgling churches located in what is now western Turkey, Smyrna being one of them. The letter was canonized as part of the bible and is called The Book of Revelation. Under the Ottomans, Smyrna emerged as an important port city and became multi-national and contemporary. They also exported many popular products to Europe, such as raisins, figs, and carpets, and were known for their unique musical style. Smyrna was the center of the war between the Turks and Greeks post WWI, which left the city completely destroyed. Today it is the third largest city and second largest port in Turkey.
We were still on the main highway, and we drove about half way around the bay before we realized we were lost. We pulled over at a gas station and asked for a map. No maps. Eric remembered that he could pull up a map on his cell phone. He expertly navigated his way into downtown using the cell phone. From what we could see, there were sections of town from the turn of the century that were neglected and dilapidated, and sections of town that are brand new and gorgeous, and everything in between. The buildings here are colorful, which is a stark contrast to Bodrum where they are all white. The bay has a large commercial container port area that dominates a big section of the bay. There is a fleet of military ships in the bay near the container port area. The roads are really great — wide and well maintained, with excellent signage. All the streets are two ways, many with nicely landscaped medians. The drivers are just as bad, though, and driving is still pretty scary. And, despite the fact that this is a huge, contemporary city, we saw goats running in the road at one point. Here is a typical street in downtown.
We had skipped lunch and were starved, so we made a stop for food at a little hole in the wall along one of the main roads. The boy behind the counter spoke no English at all. He pointed to a menu on the door. We didn't recognize a single name. He pointed to a piece of meat on a rotisserie, and we nodded yes. He cut a few pieces off the end and put them on the grill. Once they were warm, he chopped them into tiny bits and put them between a sandwich roll. It was salty, fatty, and it was a lot of bread compared to the meat. Eric didn't like the sandwich and didn't eat it. Christi thought it was fine, but hunger is the best sauce. We think it was called kokorec, but we could be mistaken.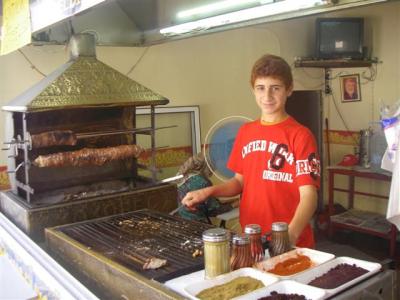 We had sat down at one of the two plastic tables. The boy was obviously excited about having foreigners visit his shop and tried to talk to us. Eric consulted Lonely Planet and they were able to communicate a little bit by pointing to assorted phrases, such as pointing to "My name is" and saying "Eric". When they were out of phrases, the boy was sad. He went through the whole book looking for more pages offering translation and was sad there weren't any. He showed us a plate holding several small pieces of meat, and they looked like they might be from places that we normally don't eat. He gave us a piece to try. It was not good. We think it was called badem, but we are not sure. We'll need to remember that name so we don't order it again.
After lunch, we went to Konak Meydani (government square), one of the main squares, located at the southern end of downtown. It is right on the water. We were taken aback at how big the waves were in the bay. It looked like the middle of the ocean, not a bay. Yes, it was windy, but on the map it looks like the bay is pretty sheltered, so the wave velocity took us by surprise. The waves were splashing against the sea wall and sending spray over the walkway along the waterfront. We're glad we took a car here and not the boat!
The town square wasn't as exciting as we'd hoped. There is a tiny mosque from 1748 with pretty tiles adorning the exterior, an ornate, tall and slim clock tower from 1901, and a historic looking office building. You can see part the mosque behind the clock tower in the picture below. It is framed on three sides by contemporary office buildings. There were some patches of greenery, but the square is mostly paved. It was early evening, and the square was packed with locals. Everyone from families with small kids, to teens, to couples of all ages. It felt very family oriented, safe and festive.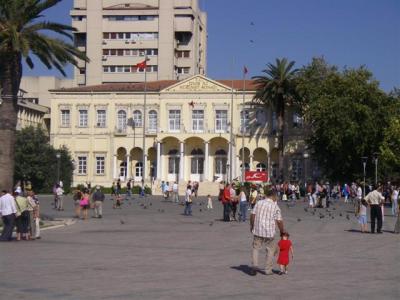 Bodrum gets tons of tourists, so it was hard for us to tell who was a local and who wasn't. Izmir doesn't get nearly as many foreigners, so we got a good sense of local attire. We saw one woman in a big black robe with her head and face covered. She was an anomaly. A good percentage of women wear long sleeve shirts and long skirts or loose fitting pants, most of them figure flattering. We didn't see too many women wearing super loose, totally figure hiding clothes. The women who covered their heads generally wore bright colored scarves over their heads, often tied under their chins. In the other Muslim countries we have been in, the head scarves are a little more elaborate, usually requiring several pins. Most of the women, however, had on t-shirts and long shorts or Capri pants, usually quite tight, with no head covering. The men all wear western style attire.
After walking around there for a while, we drove to our hotel, a few miles northeast, and checked in. After a short rest, we walked around the corner to the entrance of Kultur Park. It is their version of Balboa Park. There is a fair grounds area, a lovely flower garden, a small amusement park with typical carnival rides, a museum, a large pond with peddle boats you could rent, etc. It is a nice place. There was a wedding going on in one of the corners. It was cordoned off to non-guests, but it looks like the corner has an attractive building and pretty landscape, ideal for a wedding.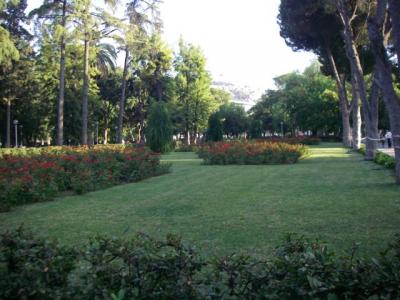 We emerged from the park at the opposite end and walked the couple blocks west to the waterfront. This part of town is chic and upscale. We walked along the waterfront for a while. There is a large grassy section in between the water and the closest road. The grassy area had lots of people, both walking around and sitting on the grass. There were definitely more people here than in the square. There were some balloon vendors walking around.
Prior to the war, the road was once home to stately offices and homes of the wealthy. We passed a couple of these remnant mansions, all of them looking like they were on their last legs. The rest of the buildings were all 9 or 10 story blocky mid-rises with shops on the first floor. We passed by a large monument, a tall marble pillar topped with a bronze sculpture depicting several men on horses that all seemed to be riding hard. The sculpture is hard to see well because the pillar is much taller than a human's head, and the sculpture seems to be too wide for the girth of the pillar, so it looks like it might topple over. The pillar is inscribed, but not in English, so we don't know what the monument is for.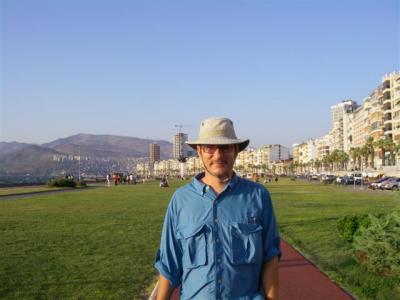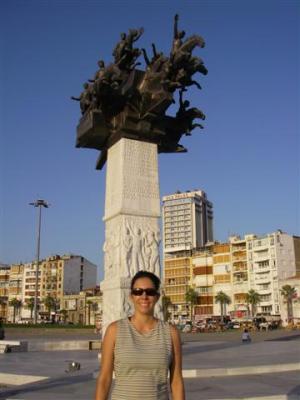 Eventually, we chose a seafood restaurant along the water and enjoyed another breathtaking sunset. After dinner, we strolled through town some more, then went back to the hotel for the night. Izmir is a nice city.