The plan was to get up early and move the boat to the sea wall, then go site seeing. Eric ran over to the wall to make sure there was still space, and much to his dismay, there was none. The wall was completely full. Darn.
It is now peak tourist season and the marina we are at has cranked up its prices, and for this month only they were charging a crazy $105 USD per night. It's a rolly marina , too. We decided to anchor out. The anchorage was flat as a pancake and had less traffic than the marina, so it should be calmer than the marina.
We decided to move after lunch. We went back through the gate into Ortygia and found a little café located in the walkway between two apartment buildings. The actual restaurant was run out of one of the apartments, with tables and chairs set up along the walkway. Of course, there were no tables in front of anyone's door, so at least the residents could get in and out of their houses. We thought it was neat that the tenants of these buildings had a restaurant not next door but literally at their front doors.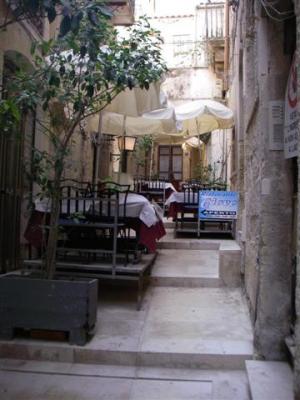 Eric likes proscuittio and melon. He was excited when he saw it on the menu, but in parenthesis it said "(in season)". Eric looked up in confusion and asked "Is it ham season right now?" Christi isn't going to let him live that one down any time soon.
We ordered Sicilian pesto with pasta. It was definitely different than what we consider a standard pesto of basil, pine nuts and garlic. It also had tomatoes, parsley, almonds and a possibly some other things, too. It was quite flavorful, though a little too salty. We also got a bruschetta appetizer (small pieces of toasted bread with toppings). There were tons of toppings to choose from, but she opted for the simple chopped tomato and fresh basil, which was absolutely delicious.
The answer to how they have managed to run electricity and plumbing in these old stone buildings was clearer here. We could see where they had damaged or removed stones in neat lines to run pipes. The damaged areas were filled in with either mismatched stones or with cement. The electrical wires were run on the exterior of the buildings and each apartment had a different configuration for running the wires inside. Some houses had their wires hanging loosely on the exterior in places where it was difficult or impossible to get the wires into the walls. Some houses had the wires running into a door or window. And only a couple actually had the wires run into their walls. The other restaurant probably spent a zillion dollars digging out the grout and stones, adding the plumbing and electricity, then replacing the stones.
After lunch, we decided to walk by the sea wall to see if any space had opened up. There were several spots open now. Yippee! We rushed back to Kosmos, topped off the water and pulled out. We were supposed to be charged for another day since we left after noon, but the marina attendant waived the fee for us. A friendly neighbor came over to the wall to help us tie up.
At the wall, we picked a huge spot with plenty of room on both sides. We dropped anchor and Eric masterfully backed in. Several people materialized out of nowhere to help us tie up, in addition to our new friend from the marina, so tying up was actually not the tricky ordeal we were anticipating. We have to say that the people here are so friendly, which we love. Often in marinas people keep to themselves and never talk to us. Here most everyone we have come near has been welcoming.
On a side note, we have now covered 2/3 of the world, and Christi still struggles with basic boating skills like tying lines and throwing ropes. But she always seem to manage to get the task completed, albeit more slowly, less gracefully, and sometimes on the second or third or fourth try.
Anyway, once we were tied up, we went for a walk. Eric was delighted to see that we were only a dozen steps away from a pizza/gelato stand. This could be dangerous. We noticed there were several carnival style rides geared at small children that were all closed.
We decided to walk around the perimeter of Ortygia. The road along the waterfront is wide. Well, wide by very old city standards. Still tiny by American standards. Most everyplace we have been, the waterfronts are usually lined with endless tourist facilities. This waterfront has a handful of hotels and restaurants, but the majority of buildings appear to be private residences. Some of the homes are well cared for and beautiful. Some are abandoned and dilapidated. There is everything in between. The buildings are eclectic in style. Since the city is so old, it stands to reason that any habitable building has had to have been updated multiple times over the years. You can tell what decades a building had a lot of love poured into it because the building usually reflects the style that was popular at that time. Something we found to be quite odd is that often times one building will have several different looks. Meaning, each floor is probably an apartment, and each owner has updated their exterior differently than the others.
Ortygia is elevated above the sea, with a retaining wall running along the perimeter of the shore. At the southernmost part of the island is what looks to be an old fort/castle and lighthouse. It looked like it was not open to tourists. We were kind of surprised to find that there are just two tiny stretches of beach, both looking man made, one the west side and one on the east side, both just below the sea wall. There is a fresh water pond that was once the main source of water for the island, today covered with papyrus plants and ducks. There is a second harbor on the northeast side of the island, also right at the canal mouth, but it looks like it is only for small boats. There is also a big formal gate at the other end of the canal, too. Oddly, there wasn't a whole lot of car traffic on the street, either.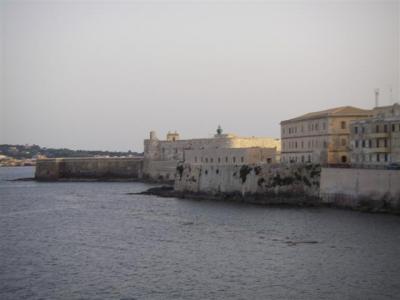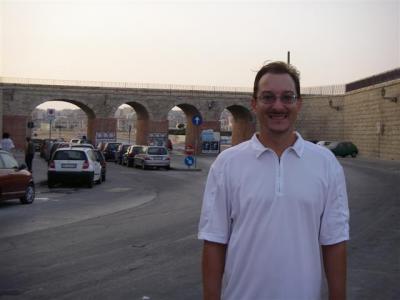 We walked west along the canal back towards the west side of the island, where Kosmos is parked. We passed the main drag that the cars were taking to get onto the island. It is a wide road that runs almost to the center of the island. It is lined with mostly clothing stores, all very chic and upscale, exactly what you would expect to find in Italy. The road ends at a traffic circle graced by a big sculpture. Several narrower one way roads shoot off from the center. Ah ha! We found the tourist stores. They were all congregated around the traffic circle and along the off shooting streets. Most of the stores seem to sell gourmet foods and specialty alcohols, or art. There are a few tacky junk stores, but most of the tourist shops are higher end.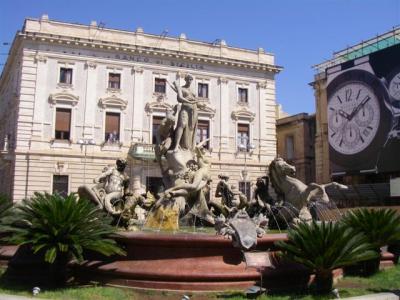 Off of the more commercial roads with the tourist shops are a maze of side streets that are only wide enough for one car, at best. Some are not even that wide. These buildings are mostly residential, with an occasional first floor shop. Like the waterfront, the condition of the buildings varies greatly, but you certainly see a lot more dilapidated and/or abandoned properties on the obscure side streets. The side streets are a total maze and it was hard for us to find our way back out of there.
Back at Komos, the authorities came by. We were nervous, seeing as we were positive that we hadn't properly checked into Italy. They must have been immigration, because all they asked for was a crew list and passports. They made sure our passports were stamped into the EU and left. We asked them what other paperwork needed to be done for customs and the port authorities and they said "nothing". We still think it is too good to be true.
We had dinner at a restaurant on the canal overlooking the piazza. There was some kind of award ceremony going on, but being that everything was in Italian, we had no idea what kind of awards were being given. The ceremony ended before dinner was over, so we went back to the boat when we were done eating. We were kind of surprised that the boardwalk along the sea wall was packed with people. The carnival rides were all actively running. Around 2230 there was a huge fireworks show in the bay. We had a spectacular front row view. It was pretty darn cool.