Yesterday morning we said our goodbyes to Jaime. He had just come for a quick weekend visit and needed to get going fairly early to catch his flight back to England. Then we moved to a permanent spot in the marina. We were absolutely delighted to find it was a floating finger dock, although it is a shared berth. It's funny how our perspective of what is exciting has changed so much. Finger docks make tying up so darn easy. As they seem to always do in the Med, they had us back in.
We were dismayed to find that the shore power wasn't working. Eric messed with it for a while, but he couldn't figure out what was wrong. Darn, no power means that our time away from Kosmos was going to be limited to three or four days, max. We signed up for wifi internet and found ourselves glued to the internet all day. We haven't had internet since Rome, and so much has been happening in the world that we had a lot to catch up on.
We didn't actually venture out until dinner time, where we settled on a pizza place along the waterfront. We'd seen a lot of people in there the night before, so we figured it was probably good. We got a phenomenally good salad served with warm marinated duck, foie gras, hard boiled eggs, lettuce and tomatoes. The duck was melt in your mouth tender. For those that don't know, foie gras is goose liver, usually served cold. The texture is creamy, more like a cheese spread than a meat. It has a light flavor, and doesn't even remotely taste like any other types of livers we have tried in our lives. It is also very good.
This morning we packed up and walked over to the bus station. The skies were gray and it was cool out. Gray skies means the solar panels won't be making much electricity, but cool out means fridge/freezer won't suck as much juice, so that probably evens out power consumption. We made a wrong turn somewhere along the way and took the long, scenic route to the bus stop. The town is nice. The old part looks a lot like St. Tropez, with narrow cobblestone lanes and quaint, traditional old buildings painted cheerful colors. The old town is small, much smaller than St. Tropez. The rest of town that we walked through is more modern, with many of the buildings looking very 60's era. We saw a lot of apartment buildings and a few houses. It looks to be a mostly residential area with not a lot of commercial activity. The houses vary widely in architectural style, adding to the character. There is a lot of greenery around, with many flowering plants in bloom. It is pretty.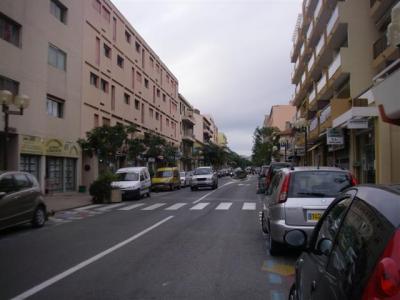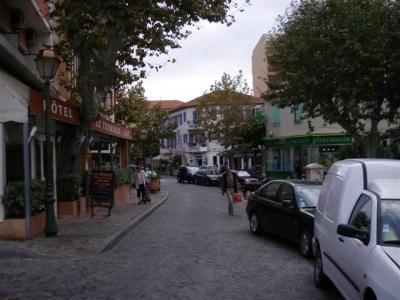 When we did finally make it to the bus stop, we had missed the bus by 5 minutes and had to wait an hour and a half for another one. Oh well. We took advantage of the time to run some errands. When the bus arrived, we were pleased to find out it was an express bus to Toulon. So, we waited longer, but it was a shorter ride. The bus made one stop in the center of each little town along the Mediterranean coast until it terminated at Toulon. Since we were mostly on the main roads, we didn't see much, but the city centers all looked to be as cute as La Lavandou and most of the houses that we saw were track homes that could easily be mistaken for a "Mimi's Café's" back home. From Toulon we caught the train north to Paris. The picture is of the Toulon train station.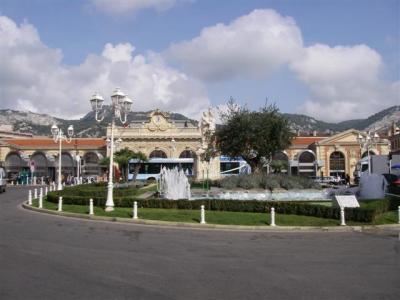 The countryside in between Toulon and Paris is mostly rolling green hills of farmland dotted with houses, and some green grass fields with livestock. There were a few small towns here and there. It was a high speed train and the ride went really fast. It rained most of the way, and the farther north we got, the denser and darker the clouds. We pulled into Gare de Lyon station in Paris around 1730.
We hadn't actually bothered to reserve a hotel room. After all, it is the off season. We had studied Lonely Planet and other tourist info and chose a section of town called Marias that looked perfect. It was a cute area and absolutely loaded to the hilt with tons of hotels. It was only two stops from the train station on the yellow metro line. The yellow line also takes you to the Louvre, Champs de Elysee, and other tourist attractions, so going site seeing would be easy.
We hopped on the metro attached to the train station and got off at the St. Paul station. Fortunately, the rain had stopped, but it was still cold. We walked the couple blocks down Rue de Rivoli towards our first choice hotel. We were definitely in Paris. It looks like every picture you ever see of Paris, with almost every single building being about 8 stories or so tall, with the blue roof that curves over the top of the building so the top floor is inset into the roof. The buildings are almost all grey stone block, and many buildings have pretty appointments and trim. Most windows have decorative wrought iron balconies or window decorations, and there are lots of flower pots with vibrant flowers hung on the wrought iron. The streets are lined with trees and outdoor cafes. The whole scene is pretty. No wonder so many artists paint Paris.
We turned the corner off Rue de Rivoli onto the street the hotel is on. You know in movies when someone sees a magical sight? How everything around that one thing disappears, a spotlight shines on it, and harp music starts to play to emphasize the magicalness of it? That happened to us as we turned the corner and saw the most beautiful sign we have ever seen: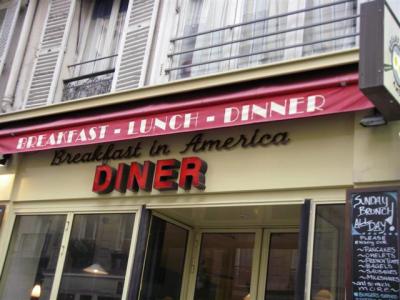 We were excited, but cautiously reserved as we approached the diner for a closer look. It had the classic 50's café look, with red vinyl bench seats. We couldn't believe our eyes. The menu posted in the door said Pancakes (Crepes American), French Toast (Pain American), Denver Omelettes, breakfast combos with eggs and bacon and toast, bagels, milkshakes"¦ We may have found heaven. We tried not to get our hopes up too much in case the food was not as good as it sounded and turned back to the task at hand.
Our chosen hotel was right across the street. We went in and found out they were booked full for all three nights we would be in town. Darn. We headed for the next closest one on the list. They were full, too. We walked several blocks northwest, weaving in and out of adorable streets filled with chic stores and cafes, making a beeline for all the hotels in the area. We were kind of surprised by how many people were out. The streets were packed and the outdoor cafes were busy, despite the cold.
After the 6th rejection, we spotted a travel agency. Lonely Planet had said that travel agents are happy to book local accommodation for a small fee. It was 1830. They told us they close at 1900, and it was too close to closing for them to bother calling. We went to another 6 hotels, all within 2 blocks of one another. One had a junior suite for $600 USD a night, which was out of the question for us. The rest were full.
Tired of walking, we went to a nearby café for dinner and pulled out Lonely Planet. They had a travel agent listed that closed at 2000. It was only 1900. They also said it was too late to bother checking for us. We started calling down the list of hotels. We lucked out. The second place we called just had a last minute cancellation. Sadly, it was $75 USD over our budget, but at that point we didn't care. Once we had a place, we relaxed and enjoyed our meal.
After dinner, we walked the half mile or so southwest to the hotel. The hotel was in a section of town called Bastille, just east of Marias. The section of town is named after "The Bastille", a 14th century fortified royal residence that was later turned into a prison. The French Revolution of 1789 was kicked off when a mob stole a bunch of weapons from the military, then used those weapons to storm the Bastille prison and set the prisoners free. The prison was destroyed. In 1833, a 52 meter high column topped with a golden and winged figure of Liberty was erected on the former site of the prison as a memorial. The site is called "Place de la Bastille", and is just a half block from the hotel. We passed it on the way in. Place de la Bastille happens to be in the middle of a busy traffic circle, which took us by surprise.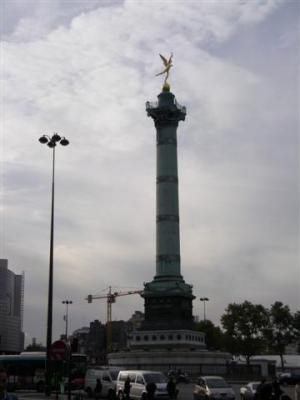 Bastille is also a neat neighborhood, looking similar to Marias. By the time we checked in it was 2130 and we called it an early night.