Finally, an update!!!!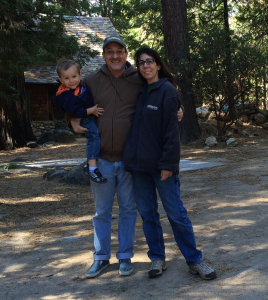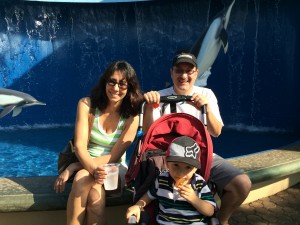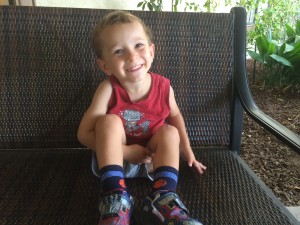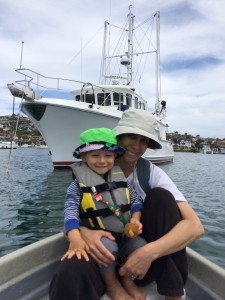 Today is the six year anniversary of completing our circumnavigation (May 1, 2009). It's been eight years since we left on our circumnavigation (April 28th, 2007). Where is time going?
We can't believe that we've let more than a year pass since we posted our last update! A couple weeks ago, we took Kosmos on a mini-vacation to Oceanside, California. We took advantage of the down time to write this post. Sadly, we haven't had a "real" vacation in over 2.5 years, hence the lack of time to write.
The last year has certainly been eventful! Here are the main things:
We still have Kosmos, and we are hoping to do extended cruising around 2018.
Keith just turned three and is doing awesome.
Christi became ill with a rare immuno-disorder that affects kidney function.
Eric became Chief Technical Officer of a company called Neulion.
We bought a new, high-tech car.
If you are interested in the details, we'll pick up where we left off… April 2014 turned out to be a dramatic month for us, with some huge ups and downs. For some reason, every April seems be an intense time for us. Anyway…
A few days after we put up the last post, Eric's father passed away. He'd been ill for a long time, and we were all emotionally prepared for his passing. A few weeks later, Eric's mother moved to a retirement community that provided meals, transportation and activities. She settled in nicely at her new home. Since making the move, her overall health has improved quite a bit. Caring for Eric's parents had been a full-time job for Christi, so not having to care for them full-time anymore dramatically reduced Christi's stress level.
Unfortunately, during April 2014, it became clear that something was seriously wrong with Christi's health. She was eventually diagnosed with a rare immuno-disorder that affects her kidney function. The last time Christi really felt "good" was before she got pregnant. In retrospect, she realized that's when the kidney problems began. But everyone kept telling her that fatigue was normal during pregnancy/infant stage, and they waved off all of her other symptoms – such as facial swelling and brain fog — as "nothing to worry about." She'd even gone in for a physical at the beginning of 2014, and her blood work came back abnormal. Instead of ordering more tests, the general practitioner told her to eat more protein and she'd be fine. By the time she was finally diagnosed, she was seriously ill. Her nephrologist told her that people as sick as her normally couldn't even drag themselves out of bed, and said that he was amazed that she could function at all. He warned her that she was dangerously close to kidney failure. Part of Christi was relieved to know there was something physically wrong with her and that she wasn't a hypochondriac.
Immuno-disorders are notoriously difficult to treat. Her disorder was steroid-resistant, so chemo was the only treatment available. However, chemo had extremely poor long-term success rates, with severe side effects. She chose to try some alternative strategies instead. In good news, these various tactics seem to be working. She has slowly and steadily been improving, and is no longer "dangerously ill." But, she has a long way to go before she is healthy again. In more good news, there is a drug in clinical trials now that has had good preliminary results that she can try if the alternative methods don't continue to help.
We mentioned in our last post that in April 2014, Eric helped make DivX a privately held company again. Eric officially became the Chief Technical Officer (CTO). In 2014, Eric traveled almost every single week of the year. Christi and Keith tagged along with him a few times, joining him in Los Angeles, Philadelphia and Hawaii.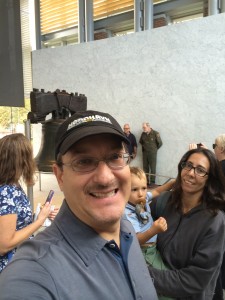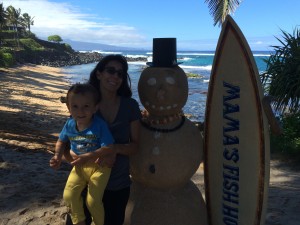 In January of this year, it was announced DivX was sold to a public company named NeuLion. It is hard to keep this straight; because this is now the fourth time in six years the ownership of DivX has changed! Eric is now an officer of the company, with the title of co-CTO with his focus on strategy and industry relations. While he's still traveling a lot, the travel schedule is a bit less hectic now. Christi and Keith have joined him on trips to Las Vegas and Palm Springs so far this year, and hope to go on a few more with him.
In September 2014, we were featured in a story in Sea Magazine about long-range cruising: http://content.yudu.com/A31669/2014-09/resources/1.htm. This is a link to the entire magazine, so be patient as it loads. We are mentioned on pages 25-27.
In October 2014, we finally got a second car! Believe it or not, we have been operating with one car since we got back from our circumnavigation. So it was exciting to get a new car after almost six years. Eric chose a fully optioned 2015 Audi S3, a sedan sports car that is big enough to work as a small family vehicle. A few weekends ago, Eric took a professional driving course and spent the weekend driving the Audi on a race-track. He loved it! In addition to being quite fast, the car has lots of nice features, including some cool self driving features such as adaptive cruise control that works in stop-and-go traffic, and it steers in the lanes for you when you go over 40mph. We're trying to think of a cool adventure to do with the new car, but we know that we'll never find something that will top our "Road Trip Across America on One Load of Fuel" that we did with the Jetta back in 2010. Suggestions are welcome!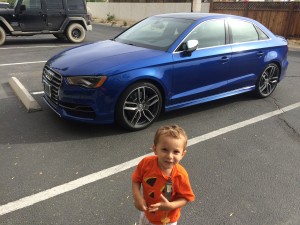 In the last post, we'd also mentioned that we'd planned to take Kosmos to the Nordhavn rally in Dana Point, where we were scheduled to speak. The rally went really well; a fun time was had by all. Unfortunately, on the 10-hour trip up there, the hydraulic stabilizers sprang a slow leak at the pressure gauge. Even with the stabilizers off, the on-engine hydraulic pump kept dutifully pumping oil out of the system. So by the time we reached Dana Point, pretty much all the oil from the stabilizers was in the bilge. Eric had turned off the bilge pump to keep all the oil onboard. It was a messy clean up. He used a hand pump and got most of it in a 5-gallon bucket. He then disconnected the pump from the engine for the ride back. We got a new gauge and new manifold, and thankfully the pump did not get damaged.
We continue to use Kosmos regularly on day trips around San Diego waters, but due to Eric's hectic work schedule, we haven't been able to do many longer trips. We've recently replaced the water heater and water pump. We re-routed some of the plumbing to the water makers to make it easier to change the pre-filter, as well as not have to use a value to switch from the AC to DC watermaker. We got new wing engine mounts. The Kosmos "replace and improve" list is pretty long at the moment. We have been getting help, though. Bob Allen of "Back to Bristol" has been doing most of the work on Kosmos. Eric does not feel Kosmos is quite ready for off-shore cruising at the moment, but hopefully we'll get her there again within the next year. We are on a different pace than before, that is for sure. We are taking our time, and watching out for new technology and things that can help us.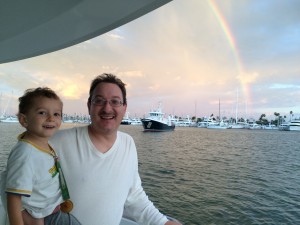 And, of course, we've saved the best for last: Keith! Keith turned three in March, and he is doing fantastic. We loved two – it was wonderful, not terrible! He did throw temper-tantrums, but far less than most other two-year olds. The temper-tantrums were usually mild and short. He was easy to discipline – a threatening tone of voice was usually enough to get him in line. He wanted to be watched – in fact, he demanded our full attention at all times, so we never had to worry about him being sneaky or getting into mischief behind our backs. He was gentle, kind and affectionate. It was so much fun to watch his cognitive skills and personality form. About this time last year, he started telling jokes. They were very simplistic and not funny by adult standards, but man, he cracked himself up!
Many people have warned us that three can be worse than two, and we suspect they may be right. Starting in January of this year, Keith has gotten more challenging. He'll tell us to go away so he can be alone. He's become stubborn – when he gets an idea in his head, there is no letting go of it (just like his mom). He's become pretty bossy, controlling and demanding. He staunchly refuses to potty train, and it's clearly a control issue for him. He pushes boundaries, argues about them, and tries to negotiate them, which has hilariously backfired on him a few times. For example, one time we told him he could have ten chocolate raisins as a treat. He wanted more, but since he lacked a firm grasp on numbers, said "No, five!" We said "OK, you win. Five." And we took half the raisins away. Dismayed, he started negotiations over again. He also has become clever about procrastinating things he doesn't like to do. For example, if we say "It's time to get dressed." He'll reply with an excuse like "I need to eat breakfast first" or "After I make this Lego car." He's also firmly in the "why" stage. Almost every statement someone says is met with a "why?" We're usually patient and try to answer all of his questions with real answers, but it's started to drive Christi crazy and she occasionally finds herself saying things she swore she'd never say, like "Cause I said so!"
And while these new traits are challenging, they are a normal part of development that was destined to come about sooner or later. And, in the grand scheme of things, he still is probably an easier than average kid. He's still enthusiastic, happy and loving. He seems less aggressive than most boys his age. We think its because we have been pretty careful about limiting his exposure to violence on the shows he watches. He's smart and incredibly observant. He's polite. We have genuinely interesting back and forth conversations with him. We feel like he is very advanced socially with adults – he understands social cues better than most kids his age. Sadly, he doesn't spend much time with other little kids, so he still lacks some social skills with them.
Shortly after we put up the last post, Keith developed a new love for coloring, both with crayons and chalk. It quickly became his favorite activity, and still is one of his favorites. He mutters to himself intently as he draws, saying things like "I'm making a car. I'm making a door. I'm making a headlight. I'm making a window…" We're told that young children just scribble and then decide what it they made after-the-fact, but clearly, that has never been the case with Keith. Everything he's drawn has been intentional. At first, he produced nothing but scribbles. His art is still mostly scribbles, but as time has gone on, he's gotten pretty decent at making shapes that somewhat resemble what he is attempting to draw.
Almost a year ago, Eric started giving Keith "captain lessons" aboard Kosmos. Within a short time, Keith could identify all the instruments in the pilot house. He's been learning how to use the instruments as his cognitive abilities allow, and he regularly practices driving the boat with daddy. While in Oceanside, we started letting him drive the dinghy.
By last summer, he was speaking in complete sentences. It took him a long time to get pronouns right (he would often say things like "I want to carry you" when he meant "I want you to carry me"), but he had pronouns mastered by Autumn. His vocabulary has steadily grown, and nowadays his vocabulary sometimes seems on par with an adult. We've always talked to him like he's an adult, even when he was a newborn, and that has paid off in spades. Keith is short for his age – only 24% in height – so most people assume he's barely two when they first meet him. Then he starts talking (and, boy is he a talker!), and they are just baffled about his age.
Another thing that baffles people is Keith's British accent. Just before his second birthday, he started watching a British show called Peppa Pig. He only watched about ½ hour a day, but it was the only show he watched. Within a couple months, he started speaking with an English accent! Lately, he's been watching more of a variety of shows, most American, and the English accent is fading.
Last summer he started calling Christi "Honey," just like Eric did. He fully understood that "Honey" was a term of endearment, "Mommy" was a job title and "Christi" was her name. We think the nickname is adorable.
Last summer, he also finally started sleeping through the night. Hooray! Getting a full night of sleep was hugely important for Christi's health. Between the night sleep and naps, she herself was finally getting enough rest to start healing. Sadly, right before he turned three, he started fighting naps. He usually winds up falling asleep once he lies down, but getting him to lie down is often a struggle. Keith still turns into a wild banshee without a nap, so dropping the nap isn't an option. And Christi needs the rest as much as Keith does.
Eric introduced Keith to Legos. Keith loves them – Legos are easily his favorite toy now — and building Legos is a special father/son bonding time for them. Eric is somewhat of a Lego purist, so he has Keith mostly working with basic block pieces at the moment. Keith will make all kinds of things, but tends to like vehicles and buildings.
Keith is still going to swim lessons every week. By early September, he was swimming for real on his own. He's in level one swim class now and is doing fantastic. In addition to swimming, we've also been taking him to assorted music classes over the last year. For a while we took him to music at Gymboree, which was great because Keith could also use the gym. He's always been very cautious with physical activities, and playing at Gymboree really helped his self-confidence in climbing, walking on narrow ledges, etc. However, they cancelled the music class and Keith had absolutely no interest in the other classes they offered.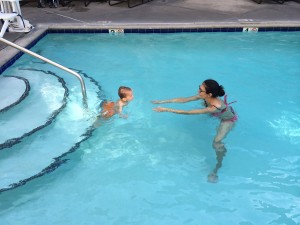 Keith is still obsessed with vehicles. He's memorized the makes and models of a shocking number of cars and trucks, and when we're out for a car ride, he tells us about the assorted vehicles he sees. He's added trains to the list of vehicles he's interested in, too. Christi and Keith regularly ride the trolley down to the train station so that Keith can ride one kind of train and watch the other kinds of trains. There's a playground a block away, so once he's had his fill of trains, he plays until he's worn out.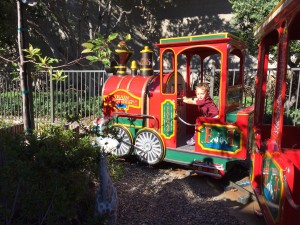 Something that we've neglected to mention in the past is that Keith has always been a great eater. While we were traveling around the world, we noticed that in other countries they didn't have special "kid food" and that kids usually happily ate the food given to them. We tried that strategy, and it seems to have worked. We've always only allowed him to eat the same food we eat (we're pretty healthy eaters overall) and have sheltered him processed "kid foods." Keith loves all kinds of foods that some people assume kids won't eat, such as salad with oil and vinegar dressing and seafood.
Keith will be starting pre-school in the fall. We've registered him for two days a week in a French language-immersion program. Christi is very much looking forward to some time to get caught up on all the life chores that have been neglected for the past 3 years.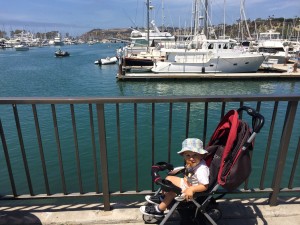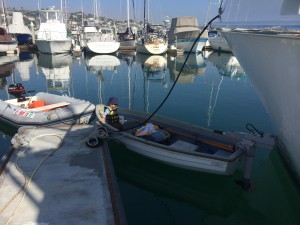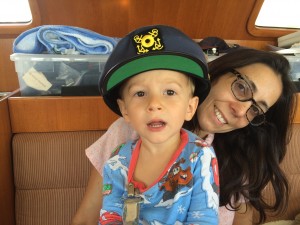 Hopefully it will not be another year for our next update!